St George's Church has experienced five changes to the composition of its parish. It was initially a chapel of ease within Eastbourne parish, but in 1958 it became a separate district within Eastbourne with its own priest and two years later became independent of Eastbourne when the new parish of Polegate with Hampden Park was created.
Five years later Polegate was separated from Hampden Park, but the two parishes merged again before another change in the early 21st century created the joint parish of Hailsham and Polegate.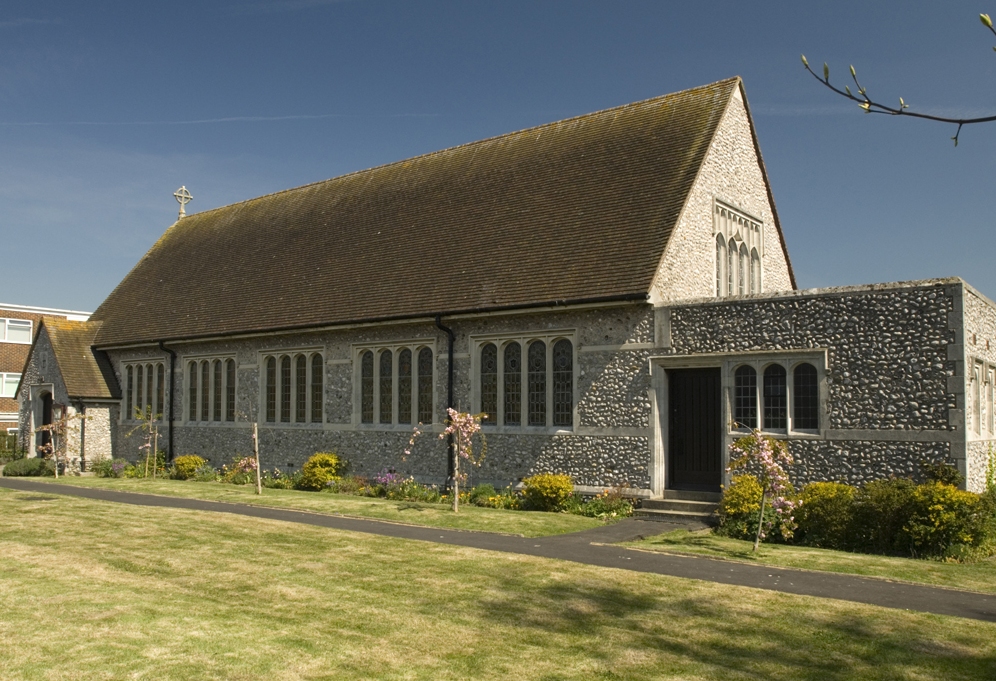 Architecture
St George's Church was built by the firm of W. Llewellyn & Sons and designed by J. O'Hanlon Hughes and Geoffrey Webb. The church is a simple building in the Perpendicular Gothic Revival style: a long rectangle with no transepts or side chapels, a single-span gabled roof and a side porch which "projects oddly beyond the west wall" of the nave. The walls are of local flint dressed with Portland stone, and the groups of four slightly arched windows in the side (north and south) walls are set in simple rectangular surrounds. In the east and west walls are taller four-light windows with slightly more complex tracery. The overall appearance is "Gothic, but only just". The interior is also unadorned, with a canted ceiling. At the opening ceremony, Fr Corballis remarked that while "not exotic", the design was "in harmony with the surrounding downland" and "plain … [but] very dignified".