For our younger congregation, we encourage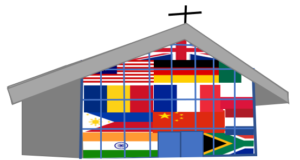 the children to be involved in our children's liturgy during the mass. We have a very diverse community at St Wilfrid's with many nationalities: Polish, Romanian, Indian, African, Filipino…
No matter what school they go to or what age they are, everyone is made welcome and new friendships are made with the children and their families as a whole.
We have a brand new church, designed to be child friendly and have good all round vision for the mass. One of the younger members of our congregation has said, and I quote: "the new church feels like someone is giving you a big hug".
Children of all ages are welcome, as well as any parents. For those of the older children who have done their First Holy Communion and would like to take part in the mass, there are opportunities to help Fr Rory on the altar, by becoming altar servers. It does not matter if you are a boy or girl, 7 years old or above, everyone is welcome.
Childrens Videos
Childrens Work
Drawing Competition
Children's Events
If you have any queries please email Annette at [email protected], or if you would like to become involved in teaching and guiding the children in their faith – help is always appreciated.